Eco Council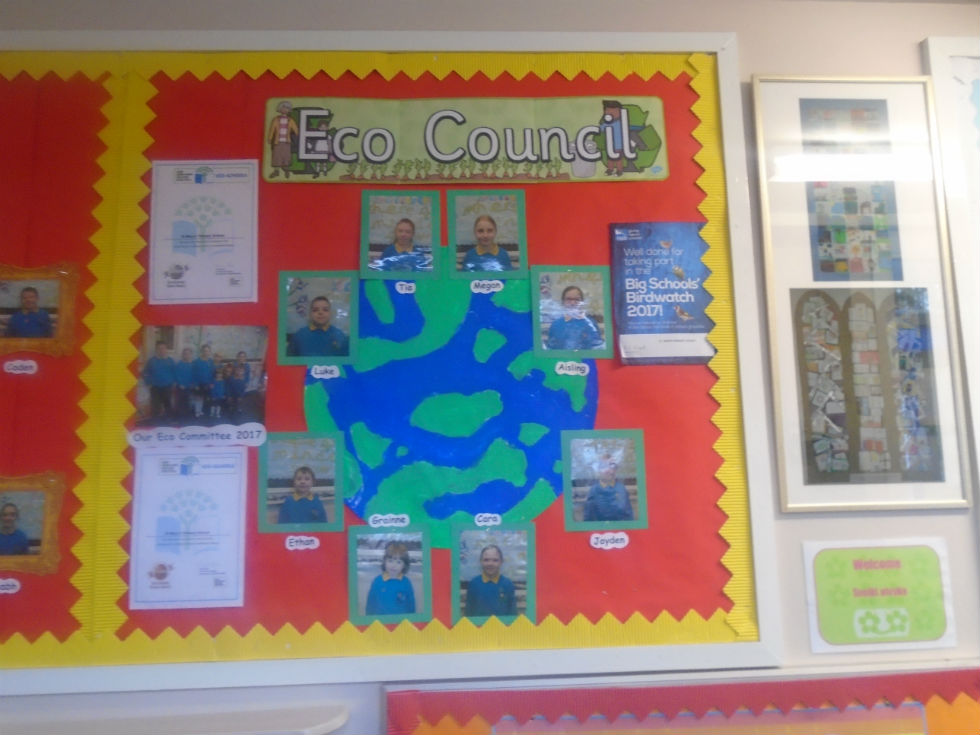 Our Eco-Council was established in October 2016 to try to make our school more environmentally friendly. There are pupils from every class. Mrs McGrenaghan, Mrs Monaghan and Michaela are also part of our green team. We live in a beautiful area and we want to keep it that way! Our Eco-Council motto is 'We are green, we keep our school clean' .
We have very successfully achieved a bronze, silver and most importantly of all the GREEN FLAG award!!! In June 2018 Cathy Gorman from 'Keep Northern Beautiful' visited our school to see our flower beds, vegetable garden, bug bed hotel, compost bin, herb garden and all the fabulous area. Inside she looked at our bin and light duty rota, our eco working wall and a very thorough look at our Eco file. She was delighted with everything and as she quoted "The pupils are just lovely, so enthusiastic and helpful both to myself and each other. Everyone in the school is clearly involved in Eco-Schools activities and knew the Eco-Code".
This year we are still working on keeping our outdoor area as clean as we can and planting more flowers and plants. Lindsey from Bryson house came to visit in September and gave us 'Sparky Mission Certificate' for saving energy. We took part in the Big Bird Watch in January. In May we have organised a 'Big Spring Clean' in the Fivemiletown area as part of the Live here, Love here initiative through Mid Ulster District Council.
We are now working towards our second 'Green Flag'!!
St Mary's Primary School 70 Colebrooke Road
Fivemiletown County Tyrone BT75 0SA
Phone: 028 8952 1315

Website by School Web Design | Login